Mobile Application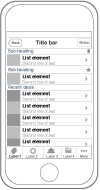 Mobile devices are quickly becoming the society's integral part, and custom mobile development is a must for all growing businesses and industries. The rapid emergence of the wireless technology and accessibility open doors for innovation and marketing opportunities, business embracing the Mobile Technology's full potential in order to generate new revenues, boost productivity and cut costs. Cybervn offer more than just mobile programming knowledge, we provide custom mobile device programming and development solutions, our technology specialists understand how to design and develop a strategy customize to your business. Cybervn's mobile custom applications provide the users with a highest level of flexibility, our high-performing and scalable mobile applications allow your workforce to be more streamline, our designers work closely with you throughout the project lifecycle to achieve an outstanding mobile platform UX/UI. The results will help to boost the exposure of your brand in the competitive market. Cybervn will work with you to create an innovative and robust application within your timeframe and within your set budget, in the same time to maximize the discoverability. We will work with you from the starting point, to create a software development strategy, to make sure the application solutions will meet, and hopefully exceed, your business goals. We will work with you to gather the business requirements, branding, wireframing, to user testing. Cybervn developed various custom mobile applications ranging from iPhone to Android to Blackberry. Our team possessed the experience and up-to-date skills to build an ever changing mobile presence that will helps your business transforms to a new level. As a result of working with different innovative companies and various entrepreneurs, each with different demands and ideas, Cybervn's software programmers has creative and advanced solutions that help to push our clients above their competition.
Cybervn solutions for the mobile applications are:

Native Apple iOS
Custom developments open a door to Apple's hundred of million users. Due to its popularity, Cybervn acquired years of experience developing custom solutions for iPad and iPhone in various industries.

Native Google Android
Has been a major mobile platform, rich with features and extremely flexible. Its fast growing user base with hundred of devices spanning across a number of wireless carriers, Android has an edge to compete with other major players such as Apple to BlackBerry. Its OS's constant innovation offers less confining guidelines than the others, make it an ideal playground for developers. It has a diverse user based, from business professionals to the tech-savvy. We provide solutions from consumer to enterprise level Android applications.

Microsoft Mobile
Has become a major player in the mobile market, its mobile OS allows seamless integration with the mainstream Windows OS, make it attractive for existing Windows systems. Beside of a familiar user interface to Windows 8, its backend integration with MS SQL Server, Exchange Server, Office Live, Dynamics CRM is a great solutions for many business. Cybervn has experiences with different Microsoft technology suites, we can customize and integrate your business enterprise solution.

jQuery Mobile
Is also known as a mobile framework or a JavaScript library, it is a touch-optimized web framework compatible with a variety of tablets and smartphones. It is a HTML5-based user interface with CSS3 supports, it allows developers to built responsive applications and web sites for mobile devices such as tablet and smartphone. Cybervn take advantage of this mobile framework to create a single solution that works across popular tablet and smartphone, including desktop platforms.

Native Blackberry
Business executives' favorite mobile device remaining to be the Blackberry for foreseeable future, Blackberry platform is known to support various features and applications that are business related with tons of functionality. Cybervn developed custom applications for Blackberry since the beginning of the Blackberry Software Development Kit, ranging from business to marketing, entertainment and gaming to utility applications. You can count on Cybervn to customize your Blackberry solutions.